Shentou Service Package for SCM C19
Shentou Service Package for SCM C19
The traditional supply chain management (SCM) has been profoundly impacted by the coronavirus pandemic. The new business model of cross-border SCM in the aftermath of COVID-19, or SCM C19, provides a general framework for the international business communities that rely on suppliers in China to deal with the challenges when international buyers are no longer able or willing to visit their suppliers, as well as the increasingly urgent needs to minimize other business risks in overseas procurement.
With SCM C19, international buyers are still buying from suppliers in China, and many operations of cross-border SCM are still based on the traditional on-the-ground activities. But the whole process is now supplemented by both the technologies which enable remote and real-time buyer participations and the third-party service providers such as Shentou that are working locally in China and overseas, so that although international buyers are not coming to China personally to meet the sellers face to face, cross-border purchases can still be completed smoothly and safely across the ocean.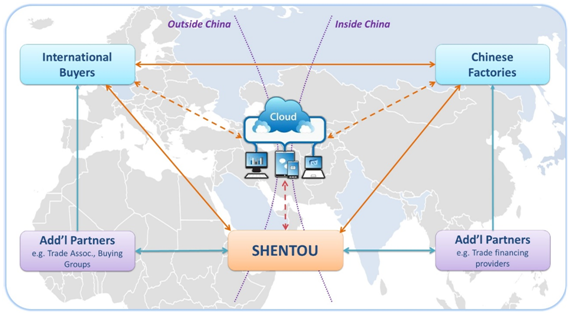 Shentou's SCM C19 Service Package provides tailor-made solutions for the international buyers with which on-site operations in China by Shentou are strategically integrated with video-conferencing and live-streaming for remote participation by the international buyers. With SCM C19, tasks such as supplier identifications, pre-qualifications, audits, inspections and quality controls could still be effectively handled despite the impact of COVID-19.
The SCM C19 Service Package also helps international buyers to deal with some of the long-standing obstacles in cross-border purchases that have been made even more serious by the pandemic, such as high MOQs required by factories, the difficulties of always buying in FCL and the long turnaround time from ordering to selling.
Primary Services in the SCM C19 Service Package
Shentou's Match-making Service helpsinternational buyers to continue the development of their suppliers in China in the aftermath of COVID-19, for such operations as supplier identifications, initial screenings and commercial negotiations.
With the Shentou Match-making Service, international buyers could manage their China suppliers remotely and effectively, with real-time participation enabledby the use of video-conferencing. During the live sessions, Shentou also provides coordination and language assistance either proactively or on demand.
Shentou also works with various trade and official business promotion organizations in China and overseas and organizes sponsored match-making programs. The involvement of these sponsoring organizations can also help pre-qualify the attendees.
Fa

ctory Inspection & Audit
Shentou's Factory Inspection & Audit Service helps international buyers to effectivelyevaluate and manage the qualities of their existing or newly-developed suppliers in China, without having to meet the suppliers physically.
Shentou first develops the detailed inspection requirements and audit procedures, especially the identification of product-specific critical processes, in joint efforts with the buyers and utilizing Shentou's expertise.
Shentou then conducts on-site inspections and audits and makes a video-recording of the entire process. The recordings are posted online for later review by the buyers. Shentou also live-streams the inspections or audits of the pre-determined critical processes at pre-determined time so buyers can remotely monitor and participate in real time.
Shentou's Pre-shipment Inspection Service helps international buyers to effectively control the quality of the products they purchase in China before shipment, without having to be physically on the ground.
Before the inspections, Shentou works with the buyers to jointly determine the acceptance criteria and inspection process, especially the identification of product-specific critical inspection points.
Shentou then undertakes the on-site inspections and makes video-recordings of the entire process for later online review by the buyers. Shentou also live-streams the inspection of the pre-determined critical inspection points so the buyers can monitor and participate remotely.
Shentou also organizes and coordinates online meetings with video-conferencing between the buyers and the factories in case of complicated technical or quality issues. The technical competence of Shentou's engineering teams could contribute to the efficient problem solving between the buyers and the factories.
Additional SCM C19 Services
LCL Shipment Consolidation
Shentou's LCL Shipment Consolidation Service helps international buyers reduce the risks of high-volume purchases from Chinese suppliers.
With the Shentou LCL Shipment Consolidation Service, international buyers could place LCL orders Shentou. Shentou then consolidates multiple LCL orders from different buyers from the same region into FCL shipments to a common port within the region and finally coordinates the shipment of each buyer's order from the port to the final destination.
While the consolidation roles are traditionally played by freight forwarders,Shentou's involvement can provide buyers with the important extra benefits of careful planning in purchase and consolidation to ensure the most cost-effective product group selections based on geographical considerations as well as product safety in transit. Because of the experience and relationship with the factoriesShentou has been working with over the past 20 years, buyers can also enjoy better prices from the consolidated purchasing powers of Shentou.
Shentou's Group Purchase Service helps international buyers to purchase items in China with high MOQ or extended production lead time due to small order quantities.
With the Shentou Group Purchasing Service, Shentou organizes online "Group Purchasing" sessions, with pre-determined target quantities and discounted prices when the target quantities are reached, within fixed durations.
Shentou's Standard Services for International Buyers
Supplier Quality Management
Shentou's Supplier Quality Management Service helps international buyers with supplier audits and the monitoring and management of their suppliers' quality improvement.
◆
Full audits of suppliers' quality, environment, occupational health & safety management systems and social compliance: ISO9001/IATF16949 ISO14001/ ISO45001/BSCI
◆
Process and product audits: ISO9001 / IATF16949
◆
Coaching and monitoring of non-conformity (NC) corrections
◆
Continuous supplier quality improvement management
◆
Product development & special project management
◆
Price and contract negotiations
◆
Coordination and monitoring of productions & deliveries
◆
Pre-production, in-line & final inspections (QC)
◆
Assistance in warranty handling
◆
Continuous supplier quality assurance (QA).
◆
Single-payment terms where buyers make single payments to Shentou for payments to different factories by Shentou
◆
Direct or Drop Shipments where Shentou helps buyers with re-packaging to ship the goods to different locations
If Shentou could be of service to you for your supply chain management or just purchases in China, please contact us at
sales@shentou.com.